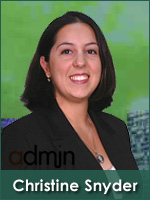 Email: Christine@MySearchforHomes.com
Office: (931) 215-8987
Administrator
My name is Christine Snyder and I work with the My Search For Homes Team in their customer care division specifically processing short sale listings. I work with Steve Manley during the short sale process from start to finish. I have been assisting Steve working with various banks on short sales for 3 years now and have become very accustomed to the in's & out's of the short sale process.
I am very proud to work with the Team and also enjoy assisting in the teams SEO Strategy and enjoy watching our sellers homes get to page one in the search engine results. We enjoy working with buyers and sellers in Franklin, Brentwood, Nashville, Spring Hill, Columbia TN and near-by surrounding areas.
Everyone on the team brings specific area's of expertise. I also previously worked as a Licensed Title Agent and had spent 5 years in that end of the real estate industry.

I've closed all types of loans for new construction, resales and refinances. I have extensive knowledge in surveys, title commitments, loan documents and many different loan programs

.

Leaving the title business I decided to obtain my real estate license and worked with EXIT Realty for 3 years before retiring my license to work from home.
I love calling the Middle Tennessee area my home and I am most fortunate to have a great husband and enjoy watching my family grow!