General Motors has just announced that it will be building its Chevrolet Equinox at the Spring Hill TN Plant next year and an additional midsize vehicle in the future. The first vehicle is part of a 4 year plan. Initially there will be 700 jobs created but overall it will create 1,200 jobs out of this plant alone.
Production of the Equinox is scheduled to begin mid-way through 2012. To read the entire article click here.
Now is the time to be in the market, whether you are selling or buying, the deals are here and for sellers, this is a great time to attract buyers. The rates for buyers are at historic lows and there is demand in our market. If you are a seller, you don't want to wait until interest rates go back up pushing more buyers out of the market.
Please feel free to contact us for a free report and evaluation for your property, neighborhood or project.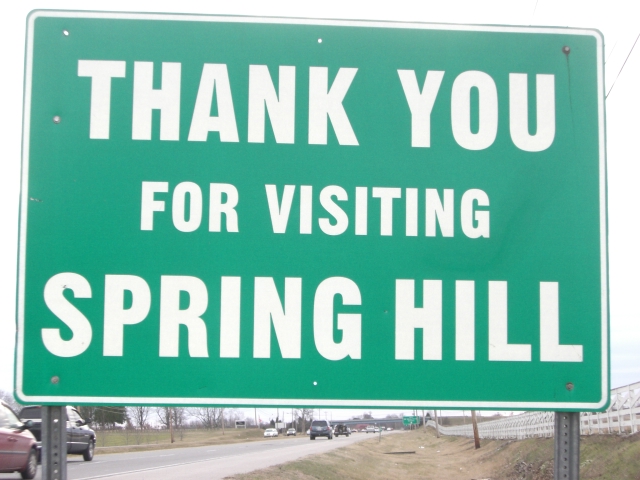 Spring Hill Tn is located approximately 30 miles south of Nashville and is located just of I-65 and offers easy access to Hwy 31 and I-840 as well. Spring Hill is a growing community with a 2007 population of over 23,000 residents living on just over 17.5 square miles. Spring Hill currently has 13 public schools serving it's students with four of the schools serving the Maury County side of the city.
For a no obligation in home evaluation contact us here.
Williamson County & Surrounding Nashville Area Real Estate that WE WILL SELL!!!
Exit Realty Music City is the ELITE of upcoming Real Estate firms in Middle Tennessee with a Team of talented agents specializing in all aspects of Real Estate from Land/Lots to Estate homes. The MySearchForHomes.com Team can help Selling your home or help with finding you the right home in Williamson County and the surrounding Nashville area. Agents of Darren DeMartino, Steve Manley, Jim Pewitt and Cindy Beam will make sure you get the BEST Price if selling and the BEST Deal if buying. Please don't hesitate to call one of our talented agents on our Team. We won't let you down.(615) 307-0858