Jessica Brewer - Realtor (R)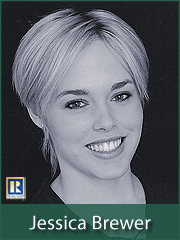 Hello I'm Jessica Brewer. I am a native Nashvillian and have always called it home. I graduated from Auburn University (WAR EAGLE!) in 2011 and settled back here in Nashville with my two dogs.

I am a huge fitness buff and enjoy running, swimming, cycling, and generally anything that makes my blood pump. I'm also a huge bookworm with a never ending list of what to read next.

I come from a long line of military men, right on down to my brother, that have instilled a work ethic in me that knows no bounds. However, my mother was in real estate herself and showed me what true class looks like in this industry.

One of my favorite things in life is making people happy. I truly care about you and your housing goals and I look forward to working with you and helping you find the home of your dreams.